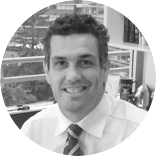 Qualifications:
MBBS University of Queensland
FRACS Fellow Royal Australasian College of Surgeons
FAOrthA Fellow Australian Orthopaedic Association
Memberships:
Royal Australasian College of Surgeons
Australian Orthopaedic Association
Australian Medical Association
Queensland Hand Surgery Society
Queensland Shoulder Surgery Society
Private Hospital Appointments:
Brisbane Private Hospital
St Andrews Hospital
Dr Darren Marchant is an Orthopaedic Surgeon specialising in Hand and Upper Limb Surgery, including microsurgery.
Dr Darren Marchant is a Hand and Upper Limb Surgeon with The Brisbane Hand and Upper Limb Clinic at the Brisbane Private Hospital.
Following completion of his Orthopaedic Surgical training locally in 2006, Dr Marchant has undertaken an extended period of fellowship training focusing on upper limb surgery. He spent his first fellowship period at The University of Texas Health Science Centre in San Antonio under the supervision of Professor Charles Rockwood and Professor Michael Wirth. The focus of this period was shoulder surgery, particularly with reference to arthroplasty procedures. This included primary and complex revision procedures, humeral resurfacing, and the surgical management of sporting injuries to the shoulder. This fellowship also included experience with the United States military at The Brooke Army Medical Centre, interacting with injured personnel recently returned from the ongoing conflict in the Middle East.
Following this Dr Marchant has spent twelve months in Sydney completing further fellowship training. The first appointment was with the Department of Hand and Peripheral Nerve Surgery at The Royal North Shore Hospital under the guidance of Professor Michael Tonkin. The focus of this fellowship included elective and traumatic surgery of the hand and wrist, including extensive micro-surgical and reconstructive training. Surgery of peripheral nerves was also a specific component of this attachment.
Dr Marchant's final fellowship appointment was with the Department of Orthopaedic Surgery at The Royal North Shore Hospital with Professor David Sonnabend and Dr Jeff Hughes. This fellowship included surgery of the shoulder and elbow including arthroplasty, trauma, and a particular focus on arthroscopic procedures of the shoulder and elbow.
Both centres are internationally recognized for their level of training and provided Dr Marchant with invaluable clinical and surgical experience in his chosen field. He believes that his fellowship experience has been extremely rewarding.
Dr Marchant has an ongoing commitment to continuing his medical education and exposure to new techniques and procedures evolving in various parts of the world. He continues to undertake training in these new improved techniques whenever the opportunity arises.